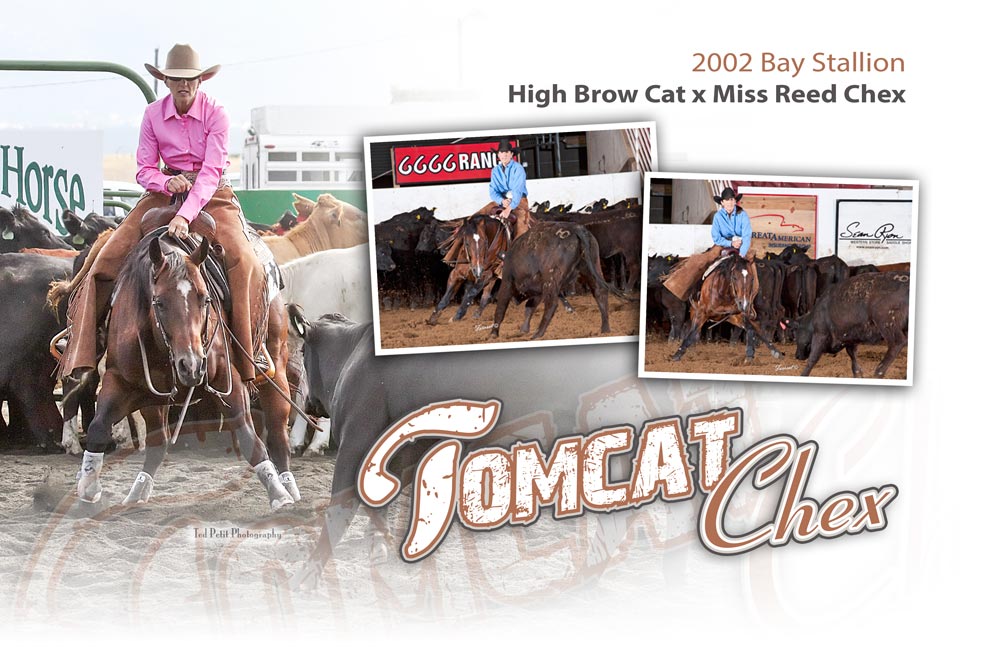 With a heart as big as Texas, amazing athleticism, phenomenal pedigree power and offspring repeatedly proving themselves in the show pen in three different disciplines, the opportunities are limitless with this beautiful bay stallion! There is no doubt that Tomcat Chex passes on his tremendous athletic ability, mindfulness and conformation onto his offspring making him an excellent choice as a sire of your future champion.
TOMCAT CHEX – 2002 Bay Stallion
AQHA #4322531
NFQHA #F0030187 – 92% foundation bred
APHA #Q4322531 – APHA color producer, sire of APHA World Champion
Sire: High Brow Cat offspring earnings over 88 million
Dam: Miss Reed Chex -the most powerful maternal influence in Rein Cow horse history. x Bueno Chex x King Fritz
EVA Negative – 5 Panel Genetic Disease Test N/N
Genetic Test – Tomcat Chex – 5PanelNN.pdf
$148,000+ NCHA earnings
18-time Limited Aged Event Finalist!
1-time Limited Aged Event Futurity Champion!
2-time Limited Aged Event Reserve Derby Champion
NCHA World Open Champion Stallion
NCHA Res. World Novice Non Pro Champion
NCHA Open Novice National Champion
AQHA ROM
Cow Palace Cutting Champion
Tomcat Chex is one of those unique individuals who has out-produced himself, which is the mark of a great sire.
Tomcat Chex stands 14.3 and weighs approx. 1100 lbs. Tomcat Chex has incredible bone and substance! He possess the qualities we look for in all of our horses- incredible mind, trainability, cow-smart, soundness… and all wrapped up in a gorgeous package and he passes it onto his offspring!!!
Tomcat Chex is by 88-million dollar sire High Brow Cat. Tomcat Chex dam, Miss Reed Chex is a powerhouse producer, She is an Equi-Stat All Time Leading dam. Miss Reed Chex offspring exceed $250,000. But better yet, her offspring are powder house producers as well. Lil Miss Smarty Chex offspring have won over $450,000. Lil Miss Shiney Chex offspring have won over $700,000. Tomcat Chex offspring nearing the half a million dollar mark… generation after generation are all proven producers…that is what we call an outstanding pedigree!! Carol Rose said it best, "I believe that 90% of the great horses have great mothers. Those great mothers have the conformation (form to function), the mind, and the athletic ability-in that order to produce outstanding, trainable athletes. It continues to be the maternal lineage or dam line that plays the most crucial role in breeding quality horses. Our record books have proven how important the influence of the dam's line is on the offspring's performance in all events." In saying that, if you did a research on all the horses that have Miss Reed Chex in their pedigree and you added up their earnings, it will be well into the millions.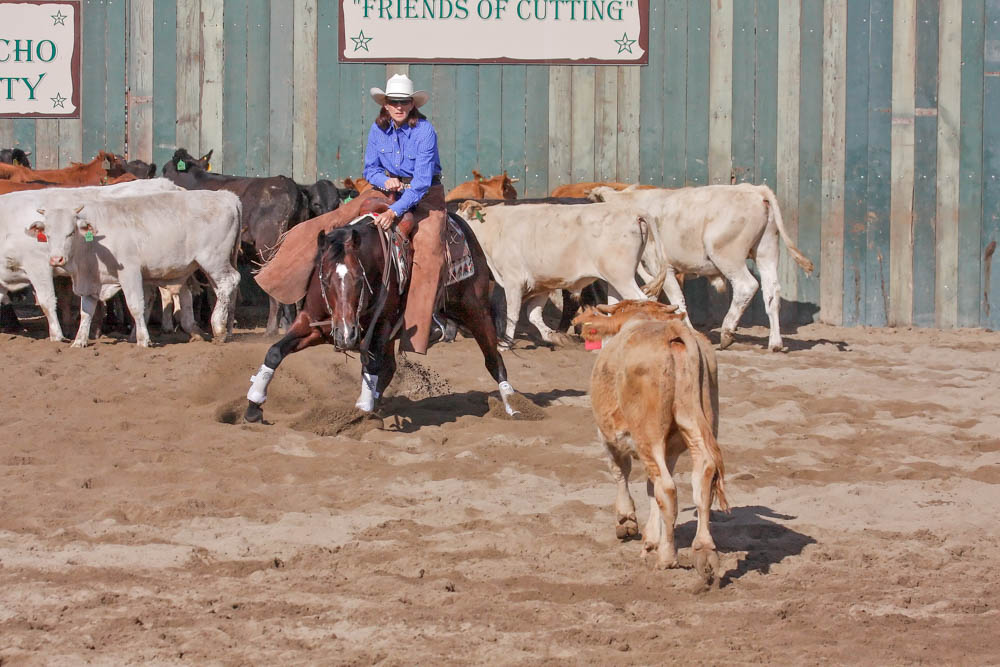 TC's first limited foal crop arrived in 2008 and they are 100% Money Earners!
Open rider – Gavin Jordan   |   Non-Pro/Amateur rider – Jalinda Covey
Tomcat Chex will continue to stand at Amazing Grace Ranch in 2022
2022 Breeding Fee: $2,500.00 includes chute fee and first ship semen
Cooled Fresh & Frozen Shipped Semen Available
Frozen Semen available in Australia
Frozen Semen available in Europe
Special consideration to proven mares
Multiple mare discount
Australian Contact: Lynda Orr
Sierra Ridge Quarter Horses
Call : 0409457853
Email : sierra_ridge_qh@hotmail.com